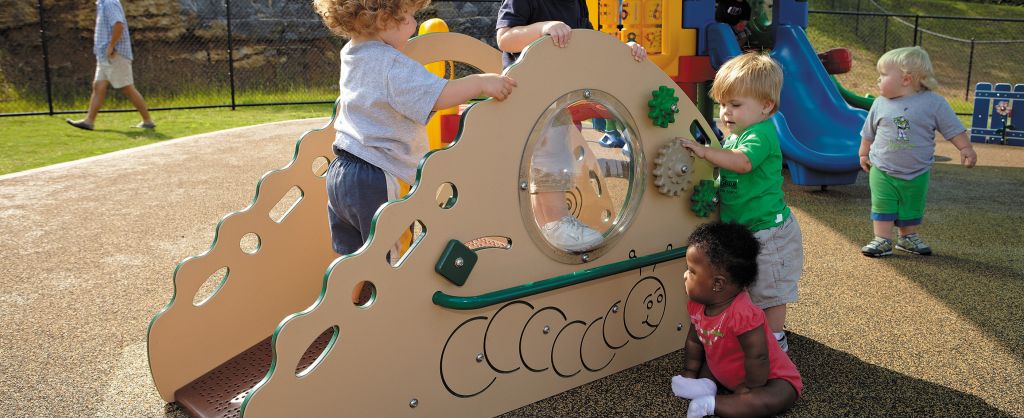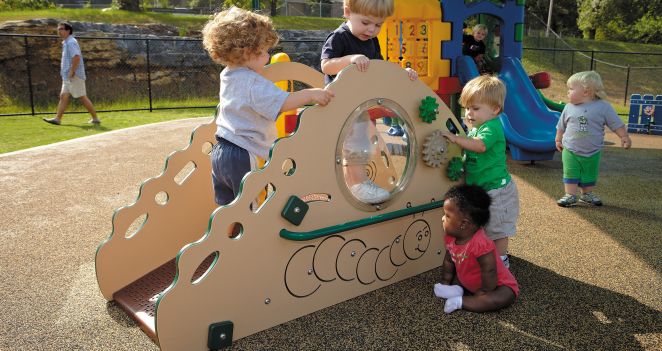 Maintenance
Regularly inspect and maintain your playground equipment and its surrounding area to ensure the safety of the user. Proper maintenance of UltraPlay equipment includes utilizing the Playground Maintenance Checklist below to identify areas requiring repairs or replacement, and barricading the equipment to prevent use while maintenance is being performed.
As the Owner/Operator of the equipment, you should keep records of the following for each public-use playground equipment area:
Establish and maintain detailed installation records
Inspection records
Maintenance records
Repair records for each public-use playground equipment area.
Find out if your playground has a designated official who periodically inspects the play equipment for preventative maintenance. These inspections would include:
Replacing missing, broken or worn-out components
Securing hardware
Checking for deterioration in the metal or plastic materials
Maintaining the proper 12 inch depth of surfacing material
Cleaning up debris.
Use the following as a basic guide for proper maintenance for your UltraPlay equipment: 
Check and repair damage caused by wear or vandalism, a major factor in injury causing situations.
Regular tightening of all bolts, nuts, set screws and other hardware.
Equipment should be free of rust and repainted with an appropriate lead free paint whenever necessary to deter rusting. This should also be done for any chipped or peeling areas.
If part is broken or worn it should be replaced immediately. 
Check for loose spring castings and tighten.
Check for missing or broken parts, rungs, or steps and repair as necessary.
Replace worn or damaged belt seats or other swing seats.
Check for worn chains and replace them as needed.
Check to be sure there is free movement of swing hanger and other moving attached parts.
Check the vertical distance between the underside of the occupied swing seat and the protective surface. It should measure no less than 12 inches. Adjust swing seat height as necessary.
Check for deformation of open "S" hooks, shackles, rings, links, etc. Check "S" hooks for excessive wear, making sure they are properly closed; never reuse an "S" hook.
Check for worn swing hangers and chain, replacements should be made if necessary.
Check for missing, damaged, or loose swing seats. Check rubber seats for wear, sharp edges/ points, scorching, or burn damage. Repair and replace as needed.
Check for swing chain wrapped around top rail and if found, unwrap. Replace chains as necessary.
Check for hard surfaces, especially under swings, slides, etc. Refer to CPSC surfacing requirements.
Check for surfacing material that is worn or scattered and restore.
Debris, broken glass, trash, or other foreign objects within or on the play area/equipment should be removed.
Check for poor drainage areas and repair.
Check concrete footings. If they are exposed, cracked, or loose in the ground repair as necessary.
Check for proper grease in tire swing assemblies and lubricate as necessary.
Check drainage holes in tire swing tires for blockage and remove debris as necessary.
Check for lack of lubrication on all moving parts and lubricate as needed.
Check crush points (exposed mechanisms, junctures of moving components) and eliminate.
Check for broken support/anchors.  Stability in ground, structures should not be easily swayed; connections should be solid and adequately secured. 
Check all posts (wood and steel) in ground for corrosion or rot below grade.
When flexible components are anchored in the ground, check and make sure anchoring devices are below the level of the playground.
Check exit areas of slides. The exit area should be no more than 11 inches from the protective surface for slides under 4 feet high. For slides over 4 feet high, the height of the exit region from the surface should be between 7 and 15 inches.
Check the surface area around slide exit for erosion and other damage and repair if necessary.
Check for visible cracks, bending, warping, rusting, or breakage of any component and repair as needed.
Check for accessible sharp edges or points. Check for protruding bars, bolts, nuts, etc. Eliminate these conditions.
Check for exposed ends of tubing that should be covered with plugs or caps.
Check for loose bolts, nuts, etc. and tighten.
Check for broken or missing rails, steps, rungs, or seats and replace.
Replace broken springs and seats on spring riders and other similar play events.