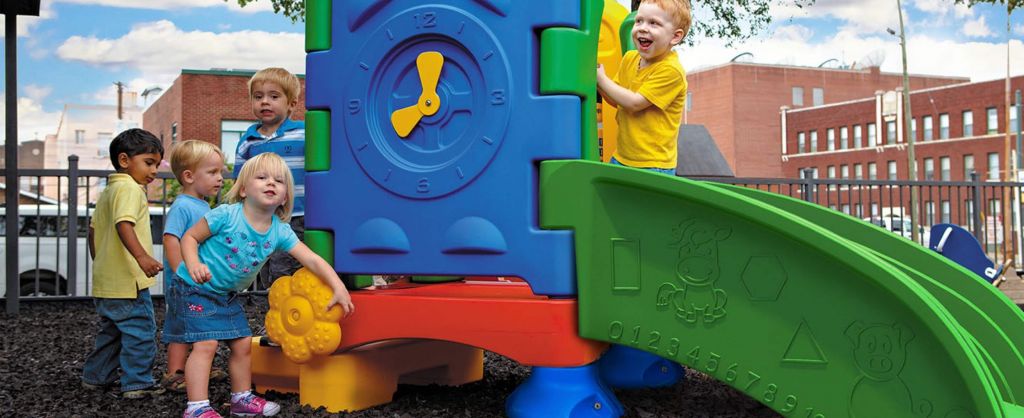 About UltraPlay
UltraPlay playground products are designed to be easy, self-installed play systems that are affordable, compliant, and quick-shipping solutions for early childhood education centers, churches, apartment and multi-family housing, or any space where residential equipment is not appropriate. Our playground products meet commercial ASTM performance standards and CPSC guidelines for equipment safety and quality of materials. Whether you are looking for product for children aged 6 months to 23 months, 2 - 5 years, or 5-12 years, we have the perfect solution for you!

Distributions
Explore Our Brands
EarlyPlay

The makers of Early Play have little ones too, and we want only the best and most stimulating play activities to enrich the play and learning experiences of young children. Children under the age of two are growing at a rapid rate, and it is through play that absorb the world around them.

Early Play provides a variety of sensory-rich opportunities to help promote best practices to meet licensing and accreditation requirements for early childhood.

Discovery Centers

Discovery Centers offer a variety of standards-based developmental and educational activities that spark the imagination and inspire exploration. These quality playgrounds promote learning and make a positive impression on early childhood facilities.

Ideal for children ages 6-23 months, and 2-5 years, Discovery Centers are the affordable, easy to install solution for early childhood programs.

UPlayToday

UPlay Today™ commercial playgrounds have been developed to be easy, self-installed play systems that are affordable, compliant and quick-shipping solutions for early childhood education centers, worship facilities, campgrounds, and multi-family/apartment housing.

Choose from single deck, double deck and triple deck structures that have been designed specifically for the 2-5 and 5-12 age groups.

Snug Play USA

SnugPlay is unique, easy to maintain, open ended, for all ages, interactive, inclusive, and can be used indoors and out. Because SnugPlay is moveable, children are inspired to play in more ways than every before. SnugPlay compels children to be more active and creative than with other types of play equipment. 

Cooperation and communication are uniquely required as they use their imaginations together.

NatureROCKS

NatureROCKS add a dynamic and authentic climbing experience to play spaces with climbing boulders, boulders with nets, and freestanding nature elements that are artfully designed to resemble real rocks. Children are drawn to their natural look and to the limitless play opportunities they offer.

Add an extra challenge to your next playground project by adding netted boulders to create a unique and fun nature play climbing area.

Freenotes Harmony Park

Freenotes are outdoor musical instruments that offer play to participants of all ages. Designed by a Grammy award winning musician, these instruments use the Pentatonic Scale which creates a naturally pleasing sound no matter which notes are played together.

Each piece is built specifically for the outdoors using heavy-duty impact resistant materials engineered for continuous exposure to elements and frequent use. Best of all, Freenotes are accessible to people of all ages and abilities, encouraging physical and cognitive development through exploration of sound.
Parent Company
PlayCore helps build stronger communities around the world by advancing play through research, programs, and partnerships. We infuse this learning into our complete family of brands. We combine best in class planning and education programs with the most comprehensive array of recreation products available to create solutions that match the unique needs of each community we serve.
Learn More