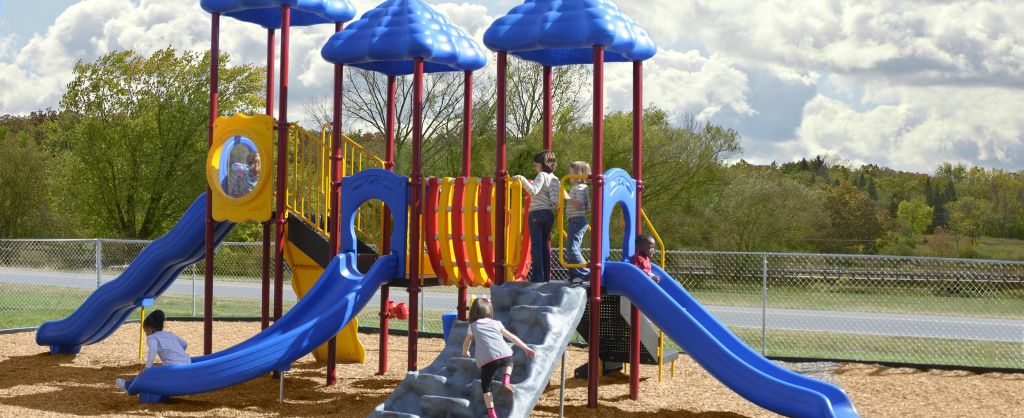 Budget
Playground Budgets
Costs associated with any playground plan can vary greatly depending on the size and scope of the project. Money for these projects can come from a variety of sources including donations, grants, fundraisers, and annual development budgets. Most often, playground projects will start with a predetermined or fixed amount of funds. Monetary allocations can then be assigned to the major cost factors of the project. Below we have provided a list of playground development considerations to help you get started with budget prioritizing.
Your playground development project should include budgetary considerations for the following major cost factors:
Equipment
Safety Surfacing
Installation
Site Amenities
Equipment A primary expense of any playground is the equipment cost. In a perfect world, the playground would be designed to address the needs and wants of the potential users without regard to a certain dollar figure. This, however, is not always possible or practical particularly in the case of early childhood centers, churches and apartment complexes where available funds may be limited or fixed.
Costs for play equipment can vary widely depending on the size of the structure, types of additional freestanding equipment desired, the supplier and the freight. Make informed decisions about equipment by researching costs and suppliers. Most suppliers will provide quotes on equipment and freight. Typically, about half of the budget will be allocated to the equipment costs.
Surfacing Safety surfacing can be a major expense. Depending on which type is chosen, the costs for this all-important playground necessity can equal or exceed the costs of the play equipment. The type of surfacing material chosen can have a tremendous impact on the cost of the playground over time particularly in terms of maintenance and upkeep as well. Research the different types of surfacing available and obtain quotes on these materials. Be sure to allocate enough money to your surfacing choice as this is not an area where cutting corners is advised. Your quote request here on our website can also provide a quote for the three types of safety surfacing offered by UltraPlay which are Engineered Wood Fiber, Recycled Rubber Tiles and Poured-in-Place rubber. Be sure to check your desired material during the quote request process.
Installation Installation is another major expense to plan for when creating a budget for your new playground. Installation of a playground can include some basic site preparation, equipment installation and surfacing installation. An important factor that can have an impact on cost of installation is the site itself. If additional preparation will be needed to clear the site of subsurface rock or grade it to eliminate elevation changes, additional funds should be planned into the budget. If you intend on having the equipment professionally installed, be sure to obtain a quote for these services from the installer or contractor.
Do-it-yourself and save the installation costs with UltraPlay! UltraPlay equipment has been designed to be an easy, one-day self-installation that can be accomplished by you and three other volunteers. The easy-to-follow installation instructions and online videos help make quick work of the project. For more information on Installation Options and Site Preparation, click those topics at the left of this page.
Site Amenities Site amenities are important additions to any playground project. Among the items typically found around playgrounds are water fountains, litter receptacles, benches, tables, security lighting, signage, fencing, landscaping, parking facilities, bicycle racks and restrooms. At minimum, you will want to provide adequate seating for adult supervisors and guardians as well as places for children to take a break and deposit trash. Again, do some research on the costs of these items and budget appropriately.
Your online quote from us can also include costs for tables, benches, and trash receptacles. See these products in the Site Amenities section of our Products gallery. You can also add them to your quote request.