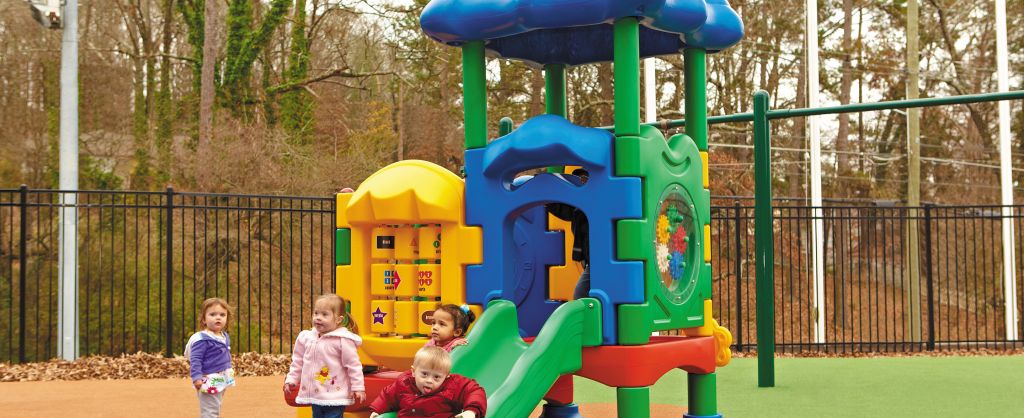 Installation
Installation Options -Types of Installations:  
Professional Installation – A professional installation is done by a certified playground installer who may be trained in various manufacturer's installation processes and will have knowledge of a broad range of equipment types. The professional installer will erect the equipment according to the manufacturer's recommended instructions and specifications. Professional installers are also very familiar with required safety standards and the application of necessary use zones. The installer is typically responsible for the entire completion of the playground. This includes any time and expense involved with obtaining missing hardware, dealing with delayed shipments, and supervising the installation of the safety surfacing. A professional installation can add a substantial amount of money to the playground project but ensures a safe and correct install.

Supervised Installation – A supervised installation can help save thousands of dollars on a playground project. Supervised installs are typically done as community or volunteer builds and require the customer to provide all labor and tools for installing the equipment. An experienced supervisor should provide valuable knowledge and help coordinate the volunteers effectively. These types of installations are typically accomplished in a few days time or spread over various weekends based on the size of the project.
Customer Installation - The customer installation is the type where the purchaser is responsible for all equipment installation. The self-install is the best way to save money and afford more equipment. A major determining factor for choosing to do a self-install is the availability and experience of probable volunteers. In the case of UPlay Today™ equipment, which has been designed for easy, one day self-install, it is suggested that at least three volunteers be available to help. It is also recommended that at least one person have a general knowledge of tools.
UPlay Today Ground Attachment Options: UPlay Today™ structures feature a unique ground attachment footer system that allows the playsystem to be installed using three different methods. Two surface mount methods are possible and include Ground Spiking and Concrete Anchor Bolts. Traditional Inground mounting into poured concrete footers is also possible.
Ground Spike - The easiest ground attachment method is by ground spike. 18 inch ground spikes are shipped with every structure's hardware kit. Three spikes are used with each footer or ground mount plate. When the structure has been located in its final location, ground spikes are driven into the footers or ground mount plates using a sledge hammer. Ground spiking should only be done after all underground utility lines have been located and clearly marked. Ground spiking is not recommended for sandy or loamy soil conditions. Check your local conditions before attempting to ground spike your structure.
Anchor Bolts – Concrete anchor bolts are used when installing a structure on an existing or new concrete pad and rubber tiles or poured-in-place rubber will be the safety surfacing choice. In this case, an anchor bolt kit should be purchased when the equipment is ordered. Each kit is specific to each UPlay Today configuration. To install your UPlay Today™ structure using the anchor bolt kit, you must assemble the four posts and deck as shown in the installation instruction manual. This post and deck assembly must be placed in its final position with the posts and deck being leveled at this time. Using each footer as a guide, drill down through it and into the concrete using a masonry bit. Fill the holes with epoxy and insert the concrete anchors. Allow the epoxy to set up. Secure the footer to the bolt with washers and hex nuts.

Traditional Inground Mount - UPlay Today™ structures can be mounted in post holes and poured concrete footings. This type of installation requires the purchase of an inground mounting kit that should be ordered with the initial equipment. Inground kits are specific to each UPlay Today structure, so be sure to order the kit that is recommend for your structure. This type of installation also requires careful use of and measurements from the footing diagram located in the printed installation instructions. Everywhere the structure touches the ground in the form of an upright or handrail footer or ground mount plate, an inground footer must be attached. These 18" inground footers bolt to the upright or handrail footers and ground mount plates. Once the footers have been bolted together, the entire assembly is then lowered into the hole with the inground footer portion resting at the bottom on a level brick or block of wood. All four posts must be leveled and the deck attached at this time. Once the deck and posts are level, then the concrete can be poured in. The entire posts and deck assembly should be fully stabilized while the concrete hardens.
Safety During Installation:   
If using ground spikes or inground mount footers and before doing any excavation, inquire about existing underground utilities. These should be marked.
If concrete footings and inground footers are being used, it is strongly recommended that the installation area be roped off for at least 48 hours after the last concrete footing is poured. Children should not be allowed to use the equipment during this period so that concrete has a chance to fully set up.
Do not leave the job site unattended without making sure that all fastening hardware on all equipment as been tightened and that all Clamp Rivets are in place to prevent the clamps from moving, in case of unauthorized use.

UPlay Today™ CLAMPS ARE NOT DESIGNED TO SUPPORT HUMAN WEIGHT WITHOUT THE CLAMP RIVETS INSTALLED, AND SUCH USE COULD CAUSE INJURY TO THE USER AND/OR DAMAGE TO THE EQUIPMENT. PLEASE SEE THE INSTALLATION INSTRUCTIONS FOR THE PROPER METHOD OF INSERTING AND SECURING THESE RIVETS.

It is also strongly recommended that all installation areas be roped off with clearly marked warning signs posted. Any open footings should be covered with plywood or other suitable material. Even during installation, it has been found that children will use the unattended equipment, thereby risking accidents.

Do not attach swing chains or similar moving components until after all construction is complete and resilient surfacing material has been installed. Remember that any equipment that appears to be complete and functional, will invite unauthorized use regardless of its actual state of readiness.